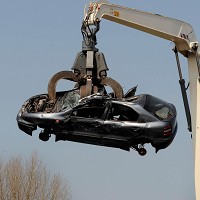 Buoyed by the extended 'cash-for-bangers' scheme, car dealership Inchcape is expecting annual profits to be "significantly ahead" of previous forecasts.
The firm said the £300 million scheme has boosted profits beyond management predictions in the third quarter, but warned that underlying demand is still weak.
Without taking into account the scrappage scheme, new car registrations fell 15.1% on last year between July and September and 28.6% below 2007.
Inchcape stated: "We expect conditions to remain challenging in most of our markets until well into the second half of 2010 as consumer confidence continues to be weak across the world and unemployment is still rising in many of our key markets."
Owing to a lack of supply, the firm reported bigger margins on used cars. But the industry is expected to be hit next year when the scrappage scheme - extended recently until February by Trade Secretary Lord Mandelson - ends.
After a short-term cut lasting a year, VAT will also return to 17.5% after the festive season. It is thought to be first in line for a tax hike if the Conservatives win the next election.
Copyright © Press Association 2009