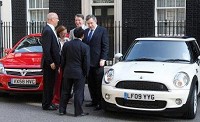 Government figures reveal more than 35,000 new cars have been ordered by motorists taking advantage of the the UK's scrappage scheme.
Since the scheme, which offers a £2,000 incentive to drivers to swap vehicles over 10 years old for a brand new model, was announced on April 22 thousands of people have signed up.
Ministers have said they are "very pleased" with the take-up, which is equivalent to a tenth of the total £300 million subsidy made available for the initiative.
A spokesman for the Department for Business, Enterprise and Regulatory Reform said: "We are really pleased that the scheme seems to be delivering a boost so early in the scheme."
Manufacturers, who are equally funding the £2,000 with the Government, have taken orders from motorists trading in a huge variety of makes and models.
Following 11 successive months of declines in new car sales, which led to production cut backs and job losses, Paul Everitt, chief executive of the Society of Motor Manufacturers and Traders, said the scrappage scheme is starting to "entice car buyers back into the showrooms".
Copyright © Press Association 2009