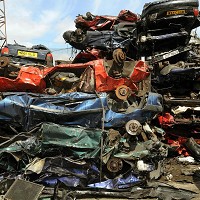 There has been a dramatic increase in demand for used cars costing between £5,000 and £7,000.
A trend for motorists looking for smaller cars, coupled with 300,000 old cars being scrapped in 2010 have fuelled the rise.
Drivers are looking for cars which use less petrol, including the Hyundai i10, Ford Fiesta, Toyota Aygo, and Vauxhall Corsa. Buyers looking for diesel cars are turning in greater numbers towards the larger Ford Mondeo and Xauxhall Insignia models.
The demand has seen used cars selling online for 10% more than the used value guides, according to Autorola, Europe's largest online remarketing company.
Autorola UK's head of operations Neil Frost said demand was healthy and predicted that the trend will continue over the next year or so until we a greater volume of these size and price of cars return to the market.
At the top end of the used-car market, the nearly new cars - under 12-months old - are struggling to sell for reserve prices. This has been attributed to deals which mean a new car with a good finance offer, free servicing and a discount can work out to cost the same as a nearly-new one.
Copyright Press Association 2013