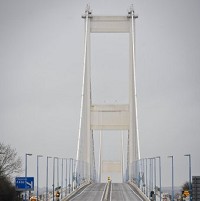 Campaigners are calling for the toll paid by motorists using the Severn Bridge to be scrapped.
The call from the Campaign Against Severn Bridge Tolls (CAST) comes ahead of the charge for cars and motor caravans rising by 10p to £6.60 from New Year's Day.
The latest annual rise means the charge for cars will have soared by £3.80 since 1992.
Group organiser John Warman says the "tax on entering Wales" is having a devastating impact on hauliers while deterring businesses from moving into Wales.
The member of Neath Port Talbot County Borough Council says the toll, which also applies to the Second Severn Crossing, makes the bridges the world's most expensive per mile, adding that only its abolition will satisfy motorists and businesses in Wales and the west of England.
From January 1, Severn River Crossing Plc (SRC) will charge small buses and small goods vehicles £13.20 - 10p more than the current charge - to use the bridges over the River Severn between England and Wales. The toll for buses and heavy goods vehicles, meanwhile, will jump by 20p to £19.80.
An SRC spokesman says the toll rise complies with the Severn Bridges Act and is in accordance with the Retail Price Index (RPI) measure of inflation.
Earlier this year over 6,000 people signed an online petition calling on Prime Minister David Cameron to axe the toll.
Copyright Press Association 2015. Motoring News articles do not reflect the RAC's views unless clearly stated.