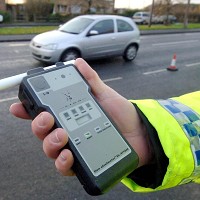 Drivers heading from England into Scotland could now fall foul of new drink-drive laws.
But an RAC study shows the vast majority British motorists want a unified approach to speeding across the islands.
Last month, the Scottish Parliament approved measures to reduce the legal limit from 80mg to 50mg per 100ml of blood.
Almost eight in 10 (79%) Scottish motorists support the reduction, according to a new survey. Scottish Justice Secretary Michael Matheson says that the new lower limit will make the country's roads even safer and save lives.
Motorists are being advised about the lower limit north of the border thorough an advertising campaign, while electronic signs telling drivers about the change have been put up on roads and at service stations in border areas.
But eight out of 10 (81%) drivers questioned in an RAC study think it is a bad idea to have different drink-drive limits in the separate nations of the UK.
And 92% reckon it will cause confusion for people from other parts of the UK who spend time north of the border.
The RAC also found that more than a third (38%) of UK motorists who live outside Scotland believe the alcohol limit for driving should be reduced to the same level throughout the rest of Britain.
Almost a quarter (23%) of UK drivers say that they would prefer to go a step further and have a total ban on consuming any alcohol before driving, the study of 2,607 motorists - 10% from Scotland - revealed.
RAC head of external affairs Pete Williams said: "Drink-driving is probably the most emotive road safety issue of all. Scotland's decision to reduce its legal limit for driving to 50mg of alcohol in 100ml of blood seems to have struck a chord with motorists.
"What is absolutely clear is that drivers would like to see the same limit enforced wherever they are in the UK and that limit appears to be the new lower Scottish one rather than the current UK limit of 80mg of alcohol in 100ml of blood.
"The potential for causing confusion is top of people's minds, but there is a very clear underlying feeling that the current UK limit is too high and that the rest of the UK should be following Scotland's lead.
"Since 2002 when there were 20,100 drink-drive casualties in Great Britain, 550 of which were fatalities, we have seen a dramatic reduction to 9,930 casualties and 230 deaths in 2012.
"However, every drink-drive casualty is one too many which is, no doubt, why people feel so strongly about reducing the limit."
Copyright Press Association 2014