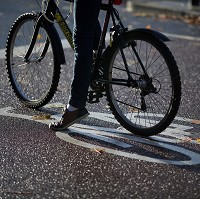 Scottish cyclists invaded Edinburgh over the weekend, demanding a safer environment on the country's roads.
Families with small children were joined by politicians and marchers in targeting Holyrood with calls for improved funding and a rethink on speed limits in areas popular with cyclists.
The event - organised by the Pedal On Parliament campaign group - was the third mass bike ride from the Meadows down the city's famous Royal Mile.
Among the speakers at the event was Lynne McNicoll, the stepmother of Andrew McNicoll - who was killed in 2012. She called on those attending to contact their MSPs to increase support for the campaign.
Also at the event was 11-year-old Kyle Thomas, who said: " Cycling down the high street I thought to myself that this is how cycling should be, there wasn't a single car on the road but lots of cyclists as it should be."
Holyrood Transport Minister Keith Brown said it is vital that children are educated if network safety is to be improved and that the Government is already investing in safer routes to schools.
Copyright Press Association 2014