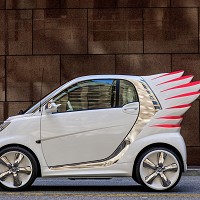 Exuberant American fashion designer Jeremy Scott has joined forces with smart to deliver a special winged edition of the electric fortwo city car.
Scott's innovative creation is being showcased at the Los Angeles Auto Show, with its unique wings with illuminated tips at the rear of the vehicle set to intrigue car lovers.
Dr Annette Winkler, head of smart, revealed the 'forjeremy' could be available to buy next year.
"We were totally enthusiastic about the first sketches that Jeremy presented to us," said Dr Winkler at the world premiere ahead of the show's official opening.
"Both smart and the wings represent a bit of freedom on the crowded streets of major cities. In their respective disciplines, both the fashion designer Jeremy Scott and the smart brand are pioneering trendsetters, venturing into uncharted territories and challenging the status quo."
Wings are popular with the much-heralded Scott, who designs clothes for stars like Lady Gaga, Katy Perry, Rihanna and Madonna. Winged motifs can be found on his sweatshirts, sunglasses, trainers and more.
Copyright Press Association 2012