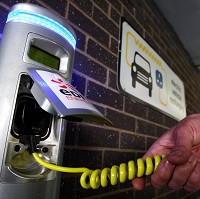 The Scottish Government has revealed plans to increase the number of electric vehicles using the country's roads and make its towns and cities emission-free by 2050.
Its "roadmap" for the future of motoring in Scotland includes a move for all cars sold in the country from 2040 to produce near zero emissions from tailpipes and a phasing out of vehicles that run on petrol and diesel in urban areas by 2030.
The Government intends to set aside £14 million to encourage the use of electric vehicles in the next two years to help the country meet its climate change targets.
It will be installing charging points at its buildings and offering businesses money to do the same on their premises.
The Government will also be replacing all fossil fuel vehicles in its fleet with electric ones.
Grants for electric vehicles are already available and home charging kits are being installed free of charge.
All motorists in electric cars and vans are entitled to discounted ferry fares to the islands of Bute and Mull.
The "roadmap" document also reveals plans to install quick recharge points on main roads in Scotland at least every 50 miles to allow longer journeys and help prevent breakdowns .
Copyright Press Association 2013