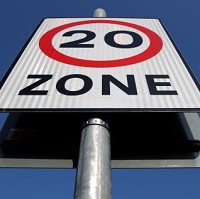 Motorists driving over a stretch of the A77 will soon face a permanent 20mph speed limit.
This will become the first Scottish trunk road to get such a speed restriction.
Motorists setting their journey planner through the Maybole, South Ayrshire stretch of the road will be subject to the 20mph zone.
Other similar restrictions have previously only been introduced on local, smaller roads and part-time zones have been launched on trunk highways near schools.
But never before has a key long-distance main road had a 20mph limit.
The three-year road safety trial scheme will be rolled out across Oban, Largs, Langholm and Biggar in the months ahead.
Transport Scotland says the initiative's primary objective is to lower the amount of accidents, especially those involving cyclists and the elderly.
Scotland's new 20mph zones have been chosen following research into their usage, accident volume and number of HGVs using them.
Transport Scotland says that Maybole has been chosen due to its very congested, narrow main thoroughfare. A planned bypass is currently being considered.
Stewart Leggett, nationwide operations manager for Transport Scotland, says managing speed remains a key part of its strategy in making safety a priority.
He told BBC Scotland's reporters that four other pilot sites will follow.
Mr Leggett expects overall road safety to get better as a result, with the most vulnerable on the roads, including cyclists and older people, particularly benefiting.
He says it is vital that speed limits become tailored to their conditions and the new pilot zones should reduce speeds in villages and towns when appropriate.
Copyright Press Association 2015