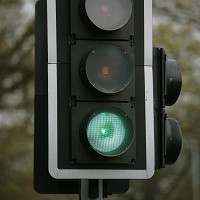 The Isles of Scilly are to get their first set of traffic lights - almost 150 years after they were first introduced on the UK mainland.
The lights will only be used temporarily while work is being carried out at the islands' St Mary's airport.
Fewer than 10 miles of roads exist on the islands so there is little scope for motorists to ever break the speed limit, even if they wanted to.
Scilly council chair Amanda Martin said: "I believe these are the first traffic lights we've had, although they are not on the road system. We have got a few A-class roads and to be honest a few people have a bit of a bug bear that we have to pay road tax.
"Obviously, there are cars on the islands - but motorists would find it hard to get much more than 20mph on the roads because they are so short. Put it this way, you'd struggle to get into fourth gear."
The first traffic lights in London were installed in Westminster 146 years ago and were introduced across the country from the 1920s.
Copyright Press Association 2014