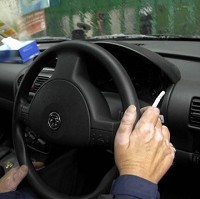 Scientists have given their backing to a ban on smoking in private cars after their research revealed it can cause harm to passengers even when smokers open windows.
They said the concentration of pollutants was three times higher than standards of indoor air quality laid down by the World Health Organisation even when windows were open or air conditioning was used.
The University of Aberdeen researchers said such levels were likely to affect the health of children travelling in the car. The small study, published in Tobacco Control, involved measuring levels of fine particulate matter every minute in the rear passenger area of the car during typical journeys over a three-day period.
In their study of 17 drivers - 14 of whom were smokers - average levels of particulate matter were found to be 11 times higher in smoking cars compared with non-smoking vehicles.
Exposing children to second-hand smoke is linked to a range of health problems including sudden infant death, meningitis and respiratory conditions, the researchers warned.
Copyright © Press Association 2012