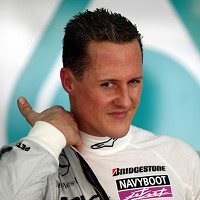 Michael Schumacher's family have gathered at his bedside as the former Formula One racing driver fights for life.
The 44-year-old is currently in an induced coma following emergency surgery to treat a serious and severe brain trauma he suffered while skiing off-piste in the resort of Meribel in France on Sunday.
Another operation has been carried out and his condition is improving slightly, the director general of the hospital where he is being cared for said on Tuesday morning.
The intervention took place overnight and a new scan carried out this morning shows slight improvement, Jacqueline Hubert told a news conference.
Reports suggest the seven-times world champion was travelling at speeds of up to 60mph when he fell and hit his head on a rock.
Doctors have refused to speculate further on a prognosis for the German, although Professor Stephan Chabardes, the neurosurgeon who operated on him, claims the "next 24 or 48 hours will be decisive".
Schumacher was admitted to Grenoble Hospital in France suffering from intracranial haematoma - blood clots - bruising and swelling of the brain.
He has been kept in a state of hypothermia since the operation by controlling his temperature to keep it at 34C-35C (93.2F-95F).
Professor Jean Francois Payen, head of anaesthetics at the clinic, believes the fact that Schumacher was wearing a helmet probably saved his life.
Copyright Press Association 2013