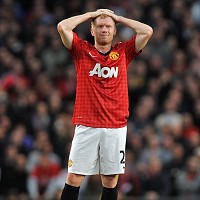 Manchester United footballer Paul Scholes has had a top-of-the-range 4x4 stolen from his driveway as he left the engine running to defrost the windscreen.
The former England international, who won 66 caps for his country, only went back into his house in Oldham for a matter of minutes but that was enough time for thieves to "frost-jack" his grey Chevrolet Captiva Estate.
The car was taken between 7.45am and 8am on Monday morning and a spokesman for Greater Manchester Police has confirmed that attempts to find the vehicle are "ongoing" and an investigation into the incident is underway.
He said: "Police are investigating after a car was stolen while the owner was defrosting the vehicle.
"The grey Chevrolet Estate was stolen from the drive of a house in the Greenfield area of Oldham between 7.45am and 8am on Monday, January 28, 2013."
Police are warning others not to make the same mistake as the 38-year-old star, who has played more than 700 times for Manchester United, and not to leave their cars unattended while defrosting if they want to avoid a potential car insurance claim.
Copyright Press Association 2013