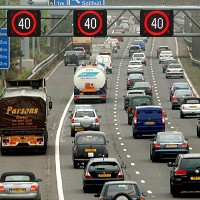 A plan to cut congestion on the M42 by opening up more of the motorway's hard shoulder to traffic at peak times has been announced by the Government.
The £3 million project, set to be completed in December, will allow road users travelling southbound at Junction 5 to drive along the hard shoulder between junction slip roads.
Motorists were previously required to exit the hard shoulder when approaching the junction, which is near Solihull.
The Highways Agency will realign the southbound hard shoulder through Junction 5 and install six CCTV traffic monitoring cameras. Two electronic message signs will direct traffic and provide road users with information.
Transport Minister Chris Mole said: "Active traffic management has made journeys on the M42 near Birmingham safer and more reliable. To maximise benefits and further increase capacity the Highways Agency is now making more of the hard shoulder available to traffic at busy times."
Copyright © Press Association 2009