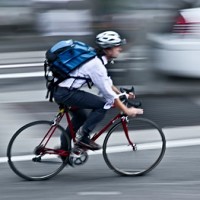 Brake and Autoglass have launched a new initiative called Bright Day which encourages companies and community groups to warn drivers to slow down as British Summer Time gets underway.
The scheme hopes to remind motorists to watch their speed around pedestrians and cyclists, particularly in built-up areas.
The move comes on the back of a Brake and British Cycling survey in which 88% of 1,000 cyclists felt people drive too fast in their neighbourhoods.
All but 2% said not enough is being done to ensure local streets are safe for cyclists and pedestrians.
The poll showed 46% of people would cycle more short journeys on safer roads, while 44% would cycle more at their leisure and four in 10 would use their bicycle to get to work.
Almost seven in 10 would welcome 20mph limits throughout their area to make roads safer for pedestrians and cyclists.
Nearly two in three British Cycling members last year said this change would cut the number of injuries to cyclists.
Brake and British Cycling has backed reducing limits to 20mph in towns and cities, while modifying roads to make them more bicycle-friendly and thus promoting a healthy lifestyle.
Safer roads can also bring down car insurance premiums.
Copyright Press Association 2013