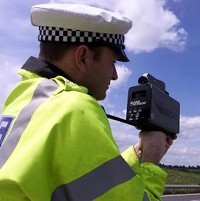 Police have removed a 7ft scarecrow from a Norfolk village because it resembled a traffic policeman holding a speed radar gun.
Villagers in Brancaster created the scarecrow for a village competition as part of its summer fete, but Norfolk Police failed to see the funny side and removed the scarecrow complete with radar gun made out of plastic bottles.
Officers said they had given the fete organisers permission to create a scarecrow in the shape of a policeman but had not realised it would include the pretend radar gun.
A Norfolk Police spokesman said: "The dummy portrayed an inaccurate and inappropriate message to passing motorists.
"We appreciate the spirit of the family-orientated festival but our priority is the safety of motorists."
The village has been told it can have the scarecrow back providing it is not displayed with the speeding device.
Inspector Dave Buckley said: "Speed radars are used to prevent casualties on our roads and to address the irresponsible actions of motorists - they should not be recreated by the roadside in jest."
Copyright © Press Association 2009