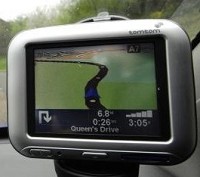 A man whose satnav led him up the garden path and almost off the edge of a 100ft cliff has been convicted of driving without due care and attention.
Robert Jones, 43, of Doncaster, South Yorkshire, had driven down a steep, narrow path in Todmorden, West Yorkshire,
Emergency services were called after reports that his BMW had been seen teetering on the edge of the cliff off Bacup Road.
Jones later told police that he had followed the satnav's instructions after it said that the footpath he was driving on was in fact a road.
He was fined £370 with six penalty points, £500 costs and a £15 victim surcharge after pleading not guilty at Calderdale Magistrates' Court.
Speaking after the incident earlier this year, Jones, who works as a driver, said he trusted his sat-nav system and relied on it for his job.
Copyright © Press Association 2009