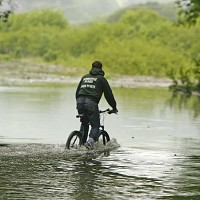 A woman has had to be rescued from her car by the fire service after she followed her satnav and got stuck in a flooded ditch.
The woman, who is from Mansfield in Nottinghamshire, said she was following her satnav and ended up in the ditch in Hook, Hampshire as she could not see the edge of the road because of the amount of water.
She was stranded in her car for half an hour before Hampshire Fire and Rescue Service were able to reach her after the vehicle was carried away by flood water, and station manager Ian Wadmore says it is not an isolated incident.
"This is the fourth rescue of this kind that Hampshire Fire and Rescue Service has made in two days," he said.
"Vehicles can float away in just two feet of water. If your vehicle stalls, leave it immediately if safe to do so and seek higher ground."
Mr Wadmore also advised motorists not to travel if the weather is very bad and to use common sense rather than relying entirely on a satnav, so as to avoid having to call on breakdown cover providers or put in an expensive car insurance claim or worse.
"Do not travel in heavy rain storms unless absolutely necessary. If in doubt, do not enter the water, either in a vehicle or on foot," he said.
"I urge all drivers to use a common sense approach, especially when using a satnav, and to seek an alternative route if a road is under water."
Copyright Press Association 2012