Satellite navigation systems can be a boon, taking the pressure off of a long journey and letting the software doing the hard work of directing you to your destination.
After last weeks story of a sat-nav leading a group of school children 80 miles from their planned destination, we've put together 10 of the worst sat-nav related disasters we've heard of:
1
A small mistake with your sat-nav can come at a price, as the female owner of a £96,000 Mercedes-Benz found out when she blindly followed directions from her GPS unit: it told her to drive into the ironically named River Sence, Leicestershire.
The rushing torrent dragged the car 200m down river. Thankfully the driver didn't suffer any injuries – but the car was ruined.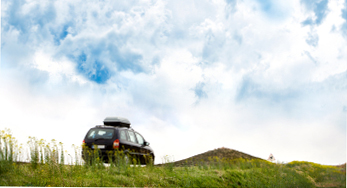 2
When programming your sat-nav, it's important to make sure you get your destination spot on. A group of friends from Gloucestershire ended up in the village of Lille in Belgium – not the city of Lille in France, as they intended – after embarking on a Christmas shopping trip across the Channel.
The same thing happened to two Swedish tourists who drove in completely the wrong direction to the industrial town of Capri, Italy, instead of the picturesque island of the same name off the country's south coast.
3
It's not just cars that come a cropper due to sat-nav maladies though. The coastguard was called to rescue a recreational sailor trying to reach Rochester in Kent – eventually running aground near Canvey Island – with only a sat-nav for guidance.
4
Despite what your GPS navigation device might tell you, don't take it as gospel. A number of drivers got stuck in the village of Crackpot in Yorkshire after their sat-nav took them up an unclassified road.
Despite official signs displaying the 'no through road' warning – and a gate! – the drivers ploughed on regardless. They eventually had to be rescued by a tractor.
5
Sat-navs have many clever functions, not least working out detours to avoid traffic on your chosen route. There's a certain amount of skill required by the user to utilise these clever tricks, though.
Programming the wrong destination is often the step where digital directions go awry. It's reported a Syrian truck driver once drove a 32-tonne vehicle to Gibraltar Point, Lincolnshire, England, when he was actually looking for the island of Gibraltar – making a 1,600-mile detour from his intended destination.
6
It's thought errors relating to sat-navs cause close to £200 million in damage every year.
A Belgian lorry driver once caused £20,000 worth of destruction in one disastrous turn of events after his navigation system told him to turn down a cul-de-sac. In a fit of blind panic, the driver accelerated, careering straight across a mini roundabout, trapping one car under his wagon and damaging five more.
7
It's important to remember what information you leave on your sat-nav system in case it's stolen. Think about deleting your unit's history if there are sensitive locations stored in its memory.
A group of bank robbers arrested during a raid were linked to a number of similar crimes committed after police found the addresses of 12 other banks in the ring leader's 'places of interest' folder on his device.
8
Making a mistake with directions can leave you in hot water with the law, too. An American trucker was jailed for 10 days after he drove his chemical tanker down a road with a 10-tonne weight limit.
If your sat-nav says one thing and your mind says the other, make sure common sense prevails, otherwise you might find yourself in trouble with the police.
9
Most of the time it really is a lack of common sense that gets some sat-nav-following motorists into trouble. An Austrian limousine driver piloted his luxury vehicle down a flight of steps after his GPS system told him it was OK to do so.
Thinking he'd be able to park right outside the front door of a shop, saving time in picking up his fare, he descended the steps with his boss in the passenger seat.
10
While most of the above might be humorous and ultimately harmless anecdotes, disengaging your brain and following errant instructions can be truly dangerous, too.
A driver nearly plunged 100ft to his death after his sat-nav left his car teetering on the edge of a cliff – the only reason the man's vehicle didn't plummet over the drop was because of a wire fence that halted the car's momentum.