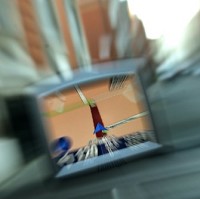 Satellite navigation has become the best-loved new van accessory, according to a new report.
The trend towards the digitaljourney planner has been fuelled by increasing pressure from businesses to get the most out of their driver and vehicle assets.
The sat-nav ensures that motorists arrive at their destination via the quickest, safest and most cost-effective route.
The annual Nissan Van Report discovered that nearly half (45%) of van drivers, and 40% of fleet operators, think that sat-nav is a must-have feature on a new van.
It finished ahead of parking sensors, Bluetooth and vehicle trackers as well as driver comforts such as electric windows, heated mirrors and air conditioning.
The poll arrives as the debate rages around planned EU laws forcing van manufacturers to fit speed limiters to vans.
Barry Beeston, corporate sales director at Nissan GB, said the company is always keen to discover what its customers are looking for and what they want in a van.
Mr Beeston said this research feeds into the development of Nissan's future commercial vehicle products.
Copyright © Press Association 2013