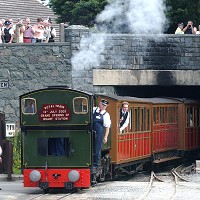 A sat-nav mix-up directed a coach full of schoolchildren nearly 80 miles away from home on a return trip from Paris.
The pupils from Tywyn, located on Wales' west coast in Gwynedd, finished their journey a couple of hours away at Towyn, located on Wales' north coast close to Rhyl.
The coach company explained that when making thejourney planner , the driver had mistakenly entered the wrong destination name in the sat-nav.
Helen Lewis is the head teacher of Ysgol Uwchradd Tywyn. She said the error was a common one as deliveries are wrongly sent to Towyn.
The 37 pupils, ranging in age from 11 to 14, had been in the French capital for three nights and were travelling back home overnight.
After the 13-hour trip, the students awoke and called their parents to tell them they had arrived in another town.
"The driver, when he was told Tywyn, had made the incorrect assumption it was Towyn," Ms Lewis said, adding:
"It is something that happens a lot here although it is the first time we had a group of pupils end up in the wrong place.
"We have had deliveries wrongly sent to Towyn."
While some parents were upset and angry, others were more philosophical about the matter.
A school governor whose daughter was on the trip, Gwynedd councillor Louise Hughes, said: "I wouldn't want anyone to lose their job over this - that would be an over-reaction."
Copyright Press Association 2013