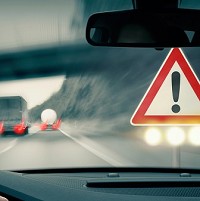 Overtaking a lorry could be made easier thanks to a wireless camera that allows drivers to see if the road ahead is clear.
Samsung has fitted trucks with cameras in the front that are connected to four weatherproof screens on the back, giving the impression of a transparent vehicle.
They are designed to make overtaking on single-lane roads safer as drivers following the truck will have a clearer view of any oncoming traffic.
Motorists in the UK may have to wait a while longer for the technology, however, as it has only been rolled out in Argentina so far. More than 20 people die in road accidents there every day, with many of the fatalities caused by dangerous overtaking manoeuvres on single-lane roads.
And there is a distinct possibility we may never see it in action at all. Samsung is currently seeking regulatory approval for what it calls the Safety Truck.
RAC Business spokesman Simon Peevers said: "It is a positive move to see technology used in ways to make driving safer for all road users and to help reduce accidents. Robust testing is of course required to ensure the system is failsafe as the consequences of the technology failing, the image freezing for example, could be devastating. So we would urge all drivers to continue to exercise caution when overtaking lorries and use their own eyes to be sure the road ahead is clear of oncoming traffic.
"From a business point of view it will be interesting to see what the demand would be from haulage firms, as It's possible this kind of system might be seen as an expensive 'nice to have', at a time when many firms, particularly smaller businesses, are faced with challenging running costs."
One of the main drawbacks to the initiative is the great expense of installing four large screens on the back of every lorry. There is little incentive for haulage companies to sign up to truck services that do not directly benefit them, especially when they will receive no financial gain.
One idea to drive revenue is to display adverts on the screens, but this is unlikely to gain regulatory approval, even though roadside billboards are commonplace.
Experts believe it is more likely that vehicle-to-vehicle and vehicle-to-infrastructure communications will prove to be more successful.
These systems are currently being developed by manufacturers such as Ford and Volvo and will be appearing in cars soon.
They work by enabling vehicles to exchange information such as location, speed and quality of road surface, as well as alerting motorists to any obstacles in the road. This makes drivers and any vehicles following behind aware of unseen problems ahead.
Copyright Press Association 2015