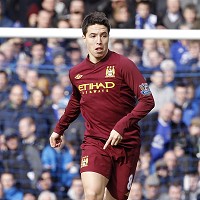 A six-month driving ban has been imposed on Manchester City midfielder Samir Nasri.
This follows the six-month ban and 250 hour community service order handed out to team-mate Carlos Tevez this week for his motoring violations.
Nasri, 25, had earlier been fined £1,900, but he won it back after he signed a statement that said he was unaware his car had been photographed three separate times for speeding.
A breakdown of the three times Nasri's Mercedes was caught speeding included doing 70mph in a 40 zone in September 2011, the following month it was caught going 39mph in a 30 zone.
In December of that same year his car was photographed going 38mph in a zone with a 30mph limit.
Traffic police revisited his case and charged the midfielder for failing to give them his driver's identity on three occasions. Nasri pleaded guilty to the three charges.
Nasri was then given a six-month ban from driving, 18 penalty points and fined £2001 plus £105 in costs.
He has never acknowledged being the driver during any of the three times his car was caught speeding.
Rather than appearing in court himself, Nasri was represented by solicitor Nick Terry.
After the court proceeding Mr Terry said: "There will be a disqualification, and he's aware of that. He's not driving at present and I will inform him immediately after the hearing of that disqualification.
"I don't have details of his income, but suffice to say he can pay whatever fine is deemed suitable by the courts."
Copyright Press Association 2013