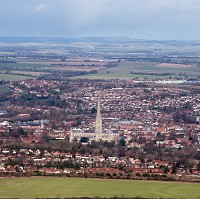 Salisbury in Wiltshire has been tipped among the best 10 best cities to visit in the world, according to a new travel guide.
The historic British city - placed seventh - is being billed as much more than just a planned stop-off in the car for a Stonehenge visit, or merely a spot for day-trippers.
Lonely Planet's Best in Travel 2015 said "for too long travellers have considered Salisbury a short stop on the way to Stonehenge".
It predicts that next year visitors will extend their stays as the "quintessentially English city" celebrates the 800th anniversary of the Magna Carta, named as its "greatest treasure".
The guide describes Salisbury Cathedral, whose Chapter House houses the charter, as the "lightning rod" for the celebrations.
Accolades such as the tallest spire in Britain, the world's oldest working clock and Britain's largest cloister are sure to attract visitors wanting a glimpse of the medieval structure.
Best in Travel 2015 contributor Tom Hall says Salisbury is deserving of its place ahead of Vienna and Toronto in the table - which is topped by Washington DC.
"Bursting with history, top-class restaurants, atmospheric nightlife and a host of festivals planned for 2015, we believe Salisbury is a must-see for domestic and international travellers alike," he said.
Copyright Press Association 2014