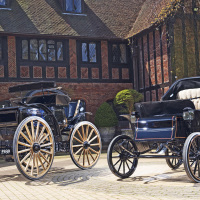 Motorists offered the chance to buy two electric cars from '06 and '07 may think they are a little too old for use in 2016 following the huge technological leaps of the last few years.
But the US-built vehicles in question are not 10-year-old motors from the early days of the latest surge in electric vehicle manufacturing.
In fact, they are much older than that, dating back more than a century to the early days of the 20th century.
The 1907 Victor High Wheel Electric Runabout and 1906 Pope Waverley Victoria Phaeton are set to be auctioned by Surrey-based Historics at Brooklands on June 11.
Experts believe each car could fetch as much as £40,000, the convertible Victoria Phaeton having been first bought for just $1,600 in Nebraska, US.
Instead of a steering wheel, the Victoria Phaeton features a boat-like tiller, has electric coach lamps for night-time driving and has been fitted with modern batteries.
Built in America, the Victor High Wheel Runabout was given a complete overhaul after being imported to the UK, where it had been in a museum.
Many people now see electric vehicles as being the future of driving, but in the early days of the 20th century there were over 100 manufacturers making cars driven by batteries.
Copyright Press Association 2016. Motoring News articles do not reflect the RAC's views unless clearly stated.