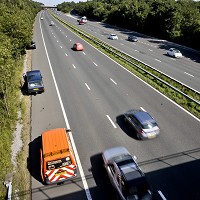 An expert from the Institute of Advanced Motorists (IAM) has issued advice on how to stay safe on motorways after dark.
Peter Rodger the IAM's chief examiner warned that driving at night can typically cause motorists to become more tired than usual.
He urged drivers not to ignore the warning signs of fatigue, to stop at least every two hours, and to share the driving if at all possible.
In an emergency, he recommends having a caffeine drink and sleeping in a safe area for 20 minutes to allow it to take effect, but cautioned against doing so more than once.
Lights, mirrors and the windscreen should be kept clean to keep eyestrain to a minimum, and Mr Rodger also called on motorists to watch out for brake lights ahead of them which could indicate congestion.
In case of a breakdown , drivers should stop their car as far to the left of the hard shoulder as possible, and then get as far away from the road as possible.
Mr Rodger said: "Christmas is a time when motorways are used a lot in darkness, with people driving after work to visit family and friends.
Although they are our safest roads, darkness brings with it additional challenges which increase the risk.
"Plan your journey from beginning to end and take necessary precautions to keep yourself and your family safe to enjoy this Christmas."
Copyright Press Association 2013