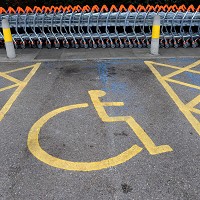 Parking as a blue badge holder can occasionally pose problems - this week's road safety tips from the IAM and Britain's top advanced driver, Peter Rodger, considers them.
Mr Rodger urges that drivers should reverse into parking spaces where possible, as it is safer and means you do all your awkward manoeuvres with a warm engine.
You should also be careful to park within the lines of the bays to allow for the extra space required for wheelchairs and such.
You certainly don't want to be claiming on your car insurance for needless scrapes and scratches.
If you are being driven and spaces are in short supply you could arrange to be dropped off by the door, if this is practical.
This means the driver can park anywhere and leave the remaining blue badge spaces for other users.
When parking on the road you should be careful not to park on a sharp bend, a junction or a bus stop.
You should also avoid rush hour if you can.
Blue badge drivers should be aware that it is illegal to let other people use your badge, and if going abroad, you should also beware that the blue badge is not universally-recognised.
It makes sense to check the regulations of your holiday destination before you travel.
IAM chief examiner Peter Rodger said: "It is a great shame that the worth-while Blue Badge scheme has a negative reputation amongst many people. With a little consideration and understanding, Blue Badge parking can be beneficial for everyone. "
Copyright Press Association 2013