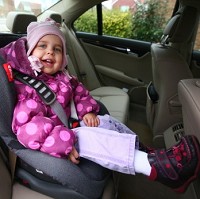 Nearly two-thirds of children's safety seat sellers fail to give proper advice, a new report claims.
Good Egg Safety 's study suggests that 64.6% of independent retailers and national chains (53 from 82 shops) are not furnishing mystery shoppers with proper guidelines.
Monday's figures come as UK motorists prepare to set their journey planners to holiday season destinations.
The safe motoring organisation, which published the report, says that in 2014 alone more than two in three child seats (67%) were wrongly installed nationwide.
It said if an accident were to occur, such seats would offer reduced or maybe even no protection at all. Chief executive Jan James calls it a "major" worry that it has unearthed a 43% rise in incorrect child seat installation or incompatibility since 2010.
The findings have prompted concern from a raft of other road safety organisations.
Brake's Sarah-Jane Martin called the new figures "shocking". She said no price could be placed on a child's safety and that "appropriate restraints" are key for children travelling by car.
Transport Research Laboratory's (TRL) child safety centre manager Tanya Robinson said, however well it develops such seats, safety will be compromised if parents are not given "adequate" installation advice. She said TRL is working with Good Egg to offer training for shop assistants.
Road Safety GB's chair Honor Byford called the figures "very timely" with the UK holiday season here. Children's safety car seats should be on every parents' motor travel checklist, she said.
Good Egg Safety's team has inspected more than 21,000 child seats over the past 13 years. It found that most store employees fail to ask the essential information needed to make sure a fitting is safe.
It said there is a "clear" link between poor installation advice and wrong fittings, that needs to be tackled.
Good Egg adds that new seats are preferable to second-hand ones - with used models not offering as much reassurance to parents, especially those without full histories available.
Copyright Press Association 2015