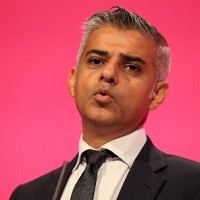 Sadiq Khan has promised to "co-operate fully" with any police investigation over claims he was photographed using his mobile phone while driving.
The shadow justice secretary, who is regarded as a potential Labour candidate to be London's mayor, was photographed allegedly using his mobile phone behind the wheel of his Volkswagen car in the capital on Monday.
Conservative MP Justin Tomlinson reported Mr Khan to the police after the pictures were published on the Guido Fawkes website.
He wrote a letter to Metropolitan Police Commissioner Sir Bernard Hogan-Howe requesting an investigation into the matter and claiming those who make the laws should certainly not be above them.
RAC spokesman Simon Williams said: Using a mobile phone at the wheel of a vehicle on the road has been against the law for more than 10 years, yet everyday people can be seen using them.
"More needs to be done to make this offence become as socially unacceptable as drink-driving.
"Hopefully a high profile accusation like this will serve to raise awareness of the issue and make people think twice about using their phones while driving."
The Metropolitan Police confirmed it had received Mr Tomlinson's complaint, which included copies of the photographs, and declared it is currently assessing its content.
Mr Khan says it goes without saying that he will co-operate fully with any investigation.
You can get an automatic fixed penalty notice if you are caught using a hand-held phone while driving - usually 3 penalty points on your licence and a fine of £100 - something which can bump up future car insurance premiums.
Copyright Press Association 2014