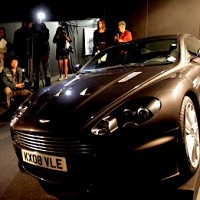 The last Aston Martin DBS to roll off the production line is going under the hammer at auction, after being found in a barn where it had been rusting for 35 years.
The sports car - which needs extensive renovation work - is expected to sell for at least £40,000 and because of its historical importance could attract far higher bids, according to Chris Routledge, managing partner at auctioneers COYS.
Mr Routledge discovered the DBS in a barn in Surrey. It has rusting bodywork, broken windows and is missing its interior trim, having been in the barn since 1980.
It is now set to be auctioned off on March 10, but will be displayed beforehand at Aston Martin's Mayfair showroom on Park Lane in London.
Mr Routledge says the car represents the ultimate barn find, adding that its historical importance has been stoking interest among collectors around the world.
Aston Martin produced the DBS for five years from 1967 and the model has featured in several James Bond movies including Quantum of Solace and On Her Majesty's Secret Service.
Copyright Press Association 2015