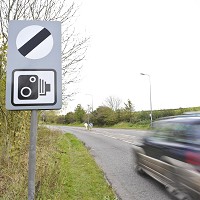 Rural roads are the most dangerous in the UK, accounting for nearly two thirds (60%) of all road deaths - official figures show.
Now, road safety campaign THINK! is calling on all drivers to show more vigilance on country routes; which pose the unique risks of sharp bends and hidden hazards.
A quarter of drivers have seen a near-miss collision on rural roads. One in three (35%) admit to taking a blind bend too quickly and 40% have been surprised by unexpected road users such as horse riders.
RAC chief engineer David Bizley said: "It is good to see the Government focussing on reducing casualties on rural roads as too many lives are being lost on them each year. With many country roads carrying speed limits of 50 mph or 60 mph there is a real temptation for motorists to drive at the limit because they are technically allowed to do so, even if it is inappropriate because of the driving conditions or local hazards. However, you can never know what danger is looming around the next bend.
"The new THINK! campaign highlights this danger in a very powerful way which we are hopeful will help reinforce the message with motorists and lead to them slowing down and taking greater care in the future.
"RAC research shows that 43% of motorists admit to breaking the speed 50mph and 60mph limits on country roads with 8% saying they do so frequently."
Losing control of a vehicle is the most common cause of rural road accidents, with excessive speed usually playing a role, according to THINK!
Road safety minister Robert Goodwill laid bare the dangers facing motorists using country roads; drivers are nearly 11 times more likely to die in a crash on a rural road than on a motorway, with an average of three deaths every day.
And James Cole, British Touring Car Championship driver, said it is crucial to always anticipate hidden hazards and brake before bends, as you cannot see what is around the corner.
Copyright Press Association 2014