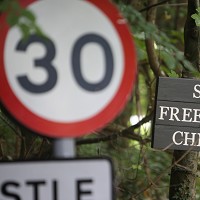 People who take their driving tests in remote parts of Scotland, rural Wales and the Lake District are much more likely pass than their urban counterparts, according to data from the Driving Standards Agency.
The Daily Telegraph looked at the figures from last year and found that learners living deep in the countryside were more than twice as likely to pass their driving test than those in or around major cities.
Those taking their test in the Scottish Highlands and islands were most likely to pass and on average nearly half of driving test candidates were successful over the past five years.
In some of the smaller test centres, such as South Uist, which had a 100% pass rate for its 5 candidates, the pass rates were very high. Amongst the larger test centres, the highest pass rate was in Campbeltown, Argyll, where 87 of the 120 candidates passed (72.5%).
All of the five centres with the highest pass rates were in Scotland and four of the top 20 were in Wales.
Neil Greig, the director of policy and research at the Institute of Advanced Motorists, said: "In rural areas, the need to pass a driving test is paramount. Candidates are going to make sure they are well prepared.
"There may be fewer hazards such as roundabouts in some rural areas, but there are other risks, such as sheep."
Copyright Press Association 2012