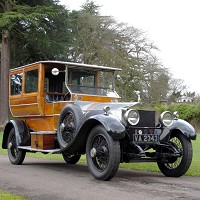 A Rolls-Royce with a royal connection has sold for over £160,000 at auction, smashing its original estimate.
The 1923 Silver Ghost, which features painted 'wood-effect' brake coachwork, was the subject of intense interest from classic car enthusiasts before the sale got underway at the H&H Auction in Lincolnshire.
Auctioneers had initially placed an upper estimate of £120,000 on the iconic motor. But a packed room at Burghley House drove the price up to £161,280 - much to the delight of the lady vendor who had driven it to the event.
In the 92 years since it rolled of the production line, the Silver Ghost has changed hands several times.
Its most famous owner was Edward VIII. The then Prince of Wales used it to get about before he became king.
Rumour has it that he once used the car to smuggle Mrs Wallis Simpson, a married American woman with whom he was having an affair, out of Balmoral, making effective use of the black, pull down silk blinds.
It is also no stranger to adventure, having embarked on a number of Ghost Club tours through Europe, South Africa and Australasia.
Other notable sales at the auction included an ex-Marquis de Portago 1931 Rolls-Royce 20/25 Sports Saloon, which sold for £95,200, and a rare 1964 Rolls-Royce Silver Cloud III 'Flying Spur' that fetched £154,560.
It was a successful day for H&H, with almost three quarters of the cars up for sale finding new homes.
The action house also broke all records with an extensive selection of nearly 500 lots of automobilia that fetched almost £150,000. An Austin Pathfinder Child's Pedal Car, one of the lots up for grabs, sold for £4,928.
Copyright Press Association 2015