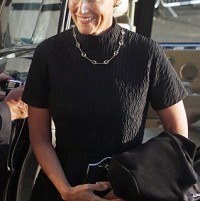 The Countess of Wessex's first car has failed to attract a buyer at auction.
Classic car fans looking forward to buying a car at the Harrogate sale were not tempted by Sophie's former 1968 maroon Morris Minor on Wednesday (November 12).
The Bonhams lot was predicted to sell for £5,000 to £7,000.
But the 948cc tax-exempt 1000 Saloon remained unsold, despite royal connections which included a picture of the car with Sophie.
Businessman Jeremy Barkley, her then partner, bought the car for the then 23-year-old Sophie Rhys-Jones, in 1988.
She sold the vehicle later that year and it fell into such a bad state with another owner that it was sold for scrap four years later for only £200, the Daily Express reported. A year after this it was renovated to its past glory.
The Countess wed the Earl of Wessex 15 years ago.
The iconic Morris Minor, which hits Britain's roads in 1948, became the UK's answer to Germany's Volkswagen Beetle.
Copyright Press Association 2014