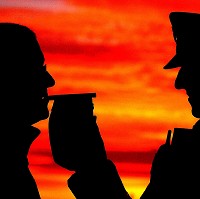 A safety charity is calling for drink-drive limits to be slashed across the UK in a bid to prevent scores of deaths.
The Royal Society for the Prevention of Accidents (RoSPA) is calling for limits to be reduced from 80mg of alcohol per 100ml of blood to 50mg, following proposals currently under discussion in Scotland and Northern Ireland.
It is estimated that by slashing the limit to 50mg in England and Wales between 77 and 168 lives could be saved annually.
After six years this could jump to 300 lives a year, according to experts.
Around 17 lives a year could be saved on Scotland's roads, according to the Scottish Government's consultation paper .
The Scottish Government's research also reveals that motorists with between 50mg and 80mg of alcohol per 100ml of blood are more than twice as likely to crash their vehicle than those who have not had a drink, which could have a negative impact on their health and their car insurance.
Alongside this they are also six times more likely to die behind the wheel.
Tom Mullarkey, RoSPA's chief executive, said: "We now urge England and Wales to follow the progress that Scotland and Northern Ireland are making in a bid to save more lives across the UK."
Copyright Press Association 2012