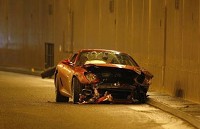 A written-off Ferrari and a red face are punishments enough for soon-to-be ex-Manchester United footballer Cristiano Ronaldo, police have decided.
They will not be charging the Portuguese winger, destined for Real Madrid in a record £80 million transfer deal, after he crashed in a tunnel near Manchester Airport.
The 24-year-old, famed for his histrionic `injuries` on the pitch, reportedly escaped without a scratch while en route to United's training ground near Sale.
Says a police spokesman: "No further action will be taken against the driver of a Ferrari 599 GTB, which collided with a wall on the A538 Wilmslow Road on Thursday January 8. No-one was injured and no other vehicles were involved in the incident."
Ronaldo had only had the top-of-the-range sports car for a couple of days before the accident. Skid marks were clearly visible at the scene of the crash, and one of the red Ferrari's wheels had come off.
Copyright © Press Association 2009