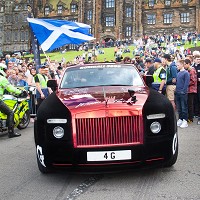 A Rolls-Royce owner is embarking on a 3,000-mile journey to raise funds for a children's charity.
Garreth Wood is joined by his wife Nicola and school friend William Rhind for the Gumball 3000 Rally, from Miami to Ibiza, in the red chrome and black velvet-finished Phantom Coupe.
A stop-off in Edinburgh gave crowds the change to see the "Velvet Phantom" as the trio bid to raise at least £200,000 for When You Wish Upon A Star, a charity which grants wished for children with life-threatening illnesses.
As part of the seven-day challenge, which includes a host of bizarrely decorated cars, Garreth and his passengers will perform 50 random acts of kindness.
Garreth's firm, Edinburgh-based Speratus Group, has pledged to donate £2,000 for every act, and t he Gumball Foundation will then match the money raised, which will go towards sending a group of children to Lapland.
Garreth said: "This journey presents an incredible opportunity to raise vital funds for such a worthy cause.
"It's also important to raise awareness; this is why we chose a temporary wrap for the car that is sure to wow the crowds wherever we go."
Copyright Press Association 2014