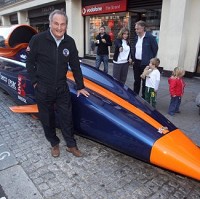 Rolls-Royce has announced it will sponsor a British attempt to break the world land speed record.
The engine maker has never before entered into a sponsorship deal, but will help the Bristol-based Bloodhound project which has set a goal of breaking the 1,000mph barrier.
A Rolls-Royce EJ200 jet engine, normally found in the twin-engine Eurofighter Typhoon combat aircraft, will be used with a custom designed hybrid rocket for the project. The team hope to travel to South Africa next year where they will attempt to go faster than the current record of 763 mph. If they manage that, they will set their sights on the 1,000 mph milestone.
Colin Smith, director of engineering and technology at Rolls-Royce, confirmed that as well as providing funding for the project, experts from the company will be able to provide technical support and assistance if the engine breaks down .
Mr Smith said: "Cutting edge engineering keeps Rolls-Royce and the UK at the forefront of global business.
"We understand the fundamental importance of inspiring young people about science, technology, engineering and mathematics and know that more needs to be done.
"Sponsoring Bloodhound gives us an opportunity to showcase world-class British engineering and invest in our future."
Copyright Press Association 2013