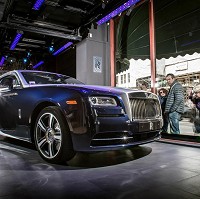 Rolls-Royce launched its new Wraith model with a window display at upmarket department store Harrods.
Crowds of car fans have gathered to sneak a peek since it appeared on display at the Knightsbridge shop on Monday morning.
The Wraith is based on the chassis of the Rolls-Royce Ghost but has been designed as a more dynamic, driver-focused car than its more expensive sibling.
The luxury car firm's CEO, Torsten MŸller-…tvšs, described the new model as "the perfect gentleman's grand tourer" at the invitation-only unveiling.
With dealer and customer demonstrations following later in the week, MŸller-…tvšs is confident that the car will start racking up sales before it is even driven.
Intended to embody "luxury, refinement and quality", the 624bhp Wraith takes its name from a car built by Rolls-Royce in the 1930s and is aimed at a slightly younger buyer than the Ghost and Phantom.
The new model will include rear-hinged doors which close automatically at the touch of a button and leather finishes of the standard seen in the £400,000 Phantom.
That sort of quality does not come cheap and with prices for the Wraith starting at around £235,000, drivers will need car insurance to protect their investment in the event of an accident.
Copyright Press Association 2013