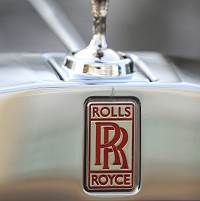 Motorists with £225,000 to spare could soon be driving what promises to be Rolls-Royce's most powerful - and cleverest - car ever.
For as well as sporting a 6.7litre V12 petrol engine with 624brake horse-power - equivalent to half a dozen Ford Fiestas - the prestige car manufacturer's new Wraith has the ghostly ability to prepare for the road ahead before it even comes into view.
The Wraith, which revives a name first used in 1938 and is on display at the Geneva Motor Show, pre-selects the right gear for the road ahead using GPS mapping technology, a facility that even works when it is faced with complicated road layouts such as roundabouts or motorway junctions.
A Rolls-Royce spokesman said the technology anticipated the driver's next move based on their current driving style and location by seeing 'beyond what the driver sees" and selecting the best gear for the road ahead. But drivers still retain ultimate control of the eight-speed automatic gearbox through the Wraith's brakes and accelerator.
On sale from the autumn, the sleek Wraith has a top speed artificially limited to 155mph and can do 0-60mph in 4.4 seconds. It also features voice-activated controls and high-tech steering and suspension.
Copyright Press Association 2013