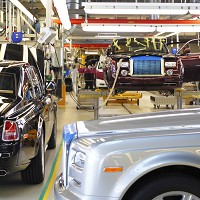 Rolls-Royce has revealed plans to introduce a new luxury open-top car to the UK market and beyond in 2016.
It will be made at the firm's Goodwood plant in West Sussex and the manufacturer hopes it will be as popular as its Ghost, Phantom and Wraith models.
The car will provide easy, open top motoring and will open up a whole new chapter in the rich history of the firm, according to its chief executive Torsten Muller-Otvos.
He says the company's fresh take on the classic drophead design should attract more customers of both sexes to the marque.
Although details have been kept at a minimum following the initial announcement, it is thought that the new Roller will cost at least £200,000, but probably more.
Plans for the new soft-top follow healthy sales figures that show Rolls-Royce, which is owned by car giant BMW, sold more cars between January and June this year than the first half of any year in its illustrious history.
The total sales figure of 1,968 cars is a third greater than it managed in the first two quarters of 2013.
Copyright Press Association 2014