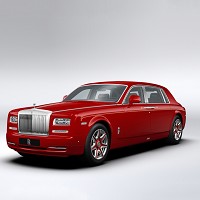 A fleet of Rolls-Royce Phantoms will chauffeur guests at a high-end Chinese hotel resort when it opens in 2016.
The luxury British car maker has this week signed its record highest order - selling 30 top-of-the-range models to the Louis XIII, an opulent hotel being built in Macau.
This eclipses the 14 Phantoms which were snapped up by the Peninsula Hotel in Hong Kong eight years ago.
It has not been disclosed how much Tuesday's deal is worth. But with the car's list price at about £370,000, it is expected that the deal would be worth at least £11 million.
Stephen Hung, the "ultra-luxury" hotel's chairman, completed the contract at Rolls-Royce's Goodwood plant outside Chichester in West Sussex.
Rolls-Royce' Extended Wheelbase cars are set to include two of the most lavish models the company has ever crafted.
Mr Hung claims his new hotel will play host to the planet's "most discerning" guests.
Copyright Press Association 2014