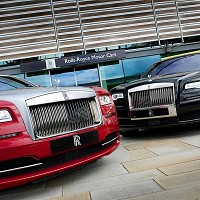 Rolls-Royce has unveiled a new vehicle handover suite which it claims will offer unprecedented customer experience.
It means that drivers buying a car at its Goodwood, West Sussex plant can choose their car in the ultimate luxury.
There will be three rooms to select from, with sound system, turntable and stage included. From here, customers worldwide will be able to tailor-make their own Rolls-Royce.
The suite will offer a range of paint colours below a special illumination feature which apes the different light spectrums encountered throughout the world.
Drivers can compare the luxury firm's amazing range of leathers and finishes in the plant's Henry Royce Commissioning Suite in honour of its founding engineer.
A second room sees the uncanny CS Rolls Study, which attempts to re-create Charles Rolls' personal writing room.
Thirdly, and biggest of all, comes a special theatre, complete with curtains obscuring a raised stage. Here, new cars can be served up to customers in a unique fashion.
Customers anticipating their new Wraith will enjoy dynamic, lively theatrics. Those collecting their Phantom , however, can look forward to a more stately, sedate display of music and lights.
Such customer pampering is not surprising. Rolls-Royce's world-renowned attention to detail means that, for the most selective purchasers, the whole design procedure can take up to 12 months.
For example, the amount of different paint hues in the firm's back catalogue numbers a mind-boggling 44,000. Several of these have been customised for individual consumers.
The handover suite's functions are twofold. First, Rolls-Royce can host and host again its most loyal customers when they are making their just-so selections.
Secondly, the suite can supply the perfect private lounge when it comes to those owners who just want to drop by at the plant for a cursory visit.
Rolls-Royce etiquette demands that new purchasers who request existing custom hues during design have to first get permission granted by the company customer who originally picked that colour.
Copyright Press Association 2015