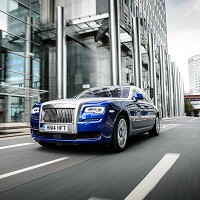 Rolls-Royce has joined the long list of motor manufacturers to issue vehicle recalls - except this affects just one car.
Not only that, the vehicle - which is a Ghost - has not even been delivered to its owner in the US yet.
The reason behind the bizarre single-car recall is incorrectly labelled thorax airbags.
The luxury car brand, which is owned by BMW, announced in a letter issued by the US National Highway Traffic Safety Administration (NHTSA) that it was recalling the vehicle, made in 2014.
The letter states: "Rolls-Royce BMW of North America is recalling one model-year 2015 Rolls-Royce Ghost manufactured on January 23, 2014.
"The affected vehicle has thorax airbags fitted to both front seats that may fail to meet the side impact performance requirements for the front seat occupants. As such, this vehicle may fail to comply with Federal Motor Vehicle Safety Standard (FMVSS) number 214, 'Side Impact Protection'."
Although it was made in 2014, the affected car is still waiting to be transported to its American owner.
A Rolls-Royce dealer will replace the airbags with new correctly-labelled ones and arrange delivery for the buyer.
The Ghost, affectionately known as the 'Baby Rolls', is powered by a 6.6-litre V12 engine with two turbochargers, going from 0-62mph in just 4.9 seconds.
Copyright Press Association 2015