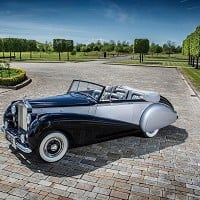 A luxury automaker is rolling back the years with one of its soon-to-be released - and much-anticipated - models.
Rolls-Royce recently unveiled its new convertible in front of a packed dealer conference in Los Angeles, where it announced that it will be called 'Dawn' in a revival of a name first used more than 60 years ago.
But consumers will have to wait until the first part of 2016 to get behind the wheel of the stylish drophead.
The name Dawn was previously given to a select range of 28 drophead models between 1950 and 1954 - and the British manufacturer is hoping the new model will capture the hearts of motorists just like its predecessors did.
Chief executive Torsten Mueller-Oetvoes describes it as the most striking and seductive Rolls-Royce to date.
He says the convertible will be the most social of super-luxury motor cars for people who wish to bathe in the sunlight of social hotspots around the world, from the beaches of Los Angles to the coastline of Monaco.
The original Silver Dawn was the first Rolls-Royce to be offered with a factory-built body, making it unique in its own right. Those that followed carried on this coach-built tradition, made for individual customers to ensure their uniqueness and rarity.
Buyers can expect a similar level of exclusivity with the new model, yet the company is refusing to give too much away at this point.
It remains tight-lipped about what will be under the hood, as well as what features will adorn the interior.
Rolls-Royce has gradually expanded its marque since its acquisition by BMW in 2003.
The Dawn follows in the footsteps of the Phantom, Ghost and Wraith models. An SUV is expected in 2017.
Copyright Press Association 2015