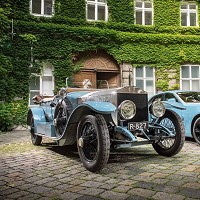 A Rolls-Royce driving event covering more than 1,800 miles in memory of a similar feat 100 years ago has drawn to a close.
The 2013 Centenary Alpine Trial reached its conclusion after 16 days of driving by 47 owners of Rolls-Royce Silver Ghost cars.
They crossed the borders of five countries and navigated tricky alpine routes before finishing up in Vienna, just as their predecessors did at the 1913 Alpenfahrt.
British royalty, ambassadors and participants from 12 countries were involved in this year's event, which Rolls-Royce chief executive officer Torsten Muller-Otvos said "embraced the spirit of adventure" synonymous with the luxury brand.
The 20 Ghost Club presented Rolls-Royce Motor Cars with the Archduke Leopold Salvator trophy as a token of thanks for its support of the trial.
The trophy is a precious claret jug and was one of the original awards presented to Rolls-Royce at the 1913 Alpenfahrt.
Copyright © Press Association 2013