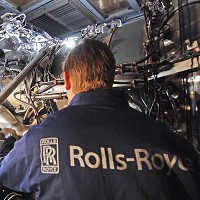 Rolls-Royce's plan to make 320 workers redundant has been criticised nu union leaders who say the company has "a booming order book".
The workers losing their job are based mainly in Derby and Bristol.
The Unite trade union maintain the redundancies are unnecessary, and national officer Ian Waddell said: "Rolls-Royce is a massive success story in UK manufacturing, making record profits and with a booming order book.
"The company needs the support of its employees to continue this success story and fulfil its commitments to its customers.
"Another round of redundancies in these circumstances, on top of the 400 job losses proposed in its defence business, is a criminal waste of talent that will create insecurity and damage morale in the workforce."
Rolls-Royce insisted its workforce will remain of similar size, saying in a statement: "In order to increase production and to stay competitive, the mix of our workforce needs to change, with more people in frontline engineering and production jobs and fewer in support functions.
"Wherever possible we will redeploy people and we will seek to avoid compulsory redundancies."
Copyright © Press Association 2013