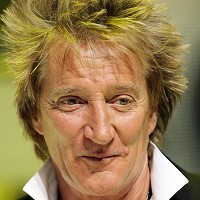 Veteran rocker Rod Stewart broke royal protocol by arriving late for a function attended by the Prince of Wales.
Members of the Royal Family should always arrive last for public engagements, according to protocol, and the Queen will usually arrive just minutes before an event begins.
However, Stewart and his wife, Penny Lancaster, arrived ten minutes late for the opening of the Prince's Trust shop in London. They couldn't blame a confusingjourney planner device for the delay, just the busy London traffic, which made the journey from their Wapping apartment far longer than it should have been. Upon arrival, an embarrassed Stewart apologised for his lateness, and the Prince, who had already opened the shop, called Tomorrow's Store, took the delay in good spirit.
The store stocks jewellery, clothing, shoes and decorative objects designed by young entrepreneurs who have been helped by the charity, for whom Stewart and his wife are both Prince's Trust Ambassadors.
Soon enough the two men were sharing a joke, and Stewart explained his embarrassment by claiming he always tells his children to be on time. He said: "We have a place over in Wapping and it took us three-quarters of an hour to get here. I wish I had my own police escort, I would always be on time."
Copyright Press Association 2013