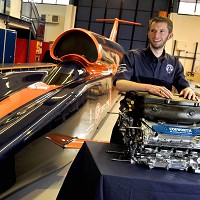 In the UK's biggest rocket test in 20 years, the largest hybrid rocket car in Europe, will be tested at Newquay Cornwall Airport next week.
Whatever results come out of the first full test of the Bloodhound Supersonic Car will be beneficial, Mark Chapman, chief engineer on the Bloodhound Project, said.
"Pretty much anything we get out of Newquay next week will be a success," Mr Chapman said. "The worst thing that could happen is nothing could happen but that also lets us know what else has failed."
The pencil-shaped jet engine and rocket powered car will attempt a record breaking speed of 1000 miles per hour by 2014.
The final version of the four metres long, 45.7cm diameter, 450 kg car is expected to generate an output equivalent to 95 Formula 1 cars.
The sole aim of the Bloodhound Project and the first test is to educate young people about science and technology, rocket engineer Dan Jubb said.
Copyright Press Association 2012