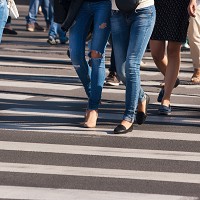 Google could add robotic arms to its self-driving cars to tell pedestrians when it is safe to cross the road.
The tech company admits communication with pedestrians is a weak spot for its cars, which are being developed in California.
It has patented a system in which an autonomous vehicle would be able to display messages to pedestrians and other drivers, informing them what it is going to do next.
Robotic arms are just one idea in the pipeline. Others include warning sounds or messages and flashing lights or electronic signs.
While autonomous vehicles will have signalling devices similar to those on non-autonomous vehicles, such as indicators, headlights, reserve lights and horns, Google says stopping a vehicle without driver-initiated signals may not sufficiently reassure the pedestrian that it is safe to cross the road.
The patent document, which was filed in 2012 and recently granted, includes various examples of the company's ideas. One is a sign that has a pedestrian symbol with a line through it, indicating that it is not safe to cross.
Copyright Press Association 2015. Motoring News articles do not reflect the RAC's views unless clearly stated.